Current Year Program Registration — Open to the Public!
Welcome to the home of Little Cherubs Christian Preschool located within Cheshire Lutheran Church.
We are now accepting enrollment for 2 years 9 months – 5 years for the 2022/2023 school year.  Please contact the Director (Joann Adinolfi Holstein) at (203) 272-1150 or via our email contact form to set up a tour of the school, or to answer any questions you may have.
Tuition rates for the 2022/2023 school year is as follows:
Three year olds: 2 days (Tuesday, Thursday 9:00 – 1:00)  $2,812


(An optional 1-hour Extended Day program from 1:00 – 2:00 is offered at $11/hr)

Four year olds: 3 days (Monday, Wednesday, Friday 9:00 – 1:00)  $4,028


(For children not enrolled in the 9:00 – 2:00 Extended Day program, and wish to occasionally have their child stay the extra hour, there is a charge of $11/hr)

Four year olds: 3 days (Monday, Wednesday, Friday 9:00 – 2:00)  $5,035
We look forward to hearing from you to get your child started today!
An Early Childhood Educational Program — Open to the Public!
Welcome to the online home of Little Cherubs Christian Preschool. Please read on to learn about the programs and offerings we have available, read our mission statement, and see if our program may be right for your child. Little Cherubs Christian Preschool welcomes all children and does not discriminate according to race, creed or color.
All Children Welcome!
Approaching our 21st year
Beautiful 1200 square foot facility
2-1/2 acre play yard
Focus on Kindergarten readiness
State Licensed facility
Curriculum supports the State of Connecticut Benchmarks
Outstanding teachers and staff
Classes for 3 and 4 year olds
Low student to teacher ratio
Open door policy
Enrichment programs available
Developmentally appropriate Christian curriculum
Interested in learning more, check out our Informational Brochure on the lower right side of this page, or contact us today.
Meet the Staff
The dedicated staff of Little Cherubs Christian Preschool is comprised of experienced and diverse adults.  Decades of educational teaching years make up our team and we look forward to working with you and your children.  We have an open door policy and encourage parents and guardians to be involved in your child's learning.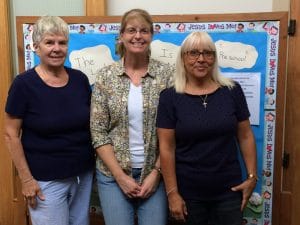 From left to right:
Teachers: Miss Martha Henderson (late), Miss Cinthia Barker
Director/Head Teacher: Miss Joann Holstein
Tribute to the late Miss Martha Henderson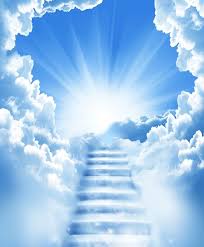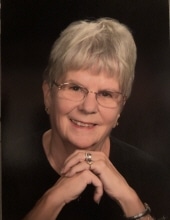 On December 31, 2020, God took Martha home to be with him and her husband Doug plus the other people that went before her.  Martha, was so loved and such a great asset to our classroom.
We all miss her dearly.  We are very blessed to have  her years of projects saved according to the theme we are working on in her handwriting. Miss Martha is still part of Little Cherubs Christian Preschool and will remain part of it as long as Little Cherubs is in existence.
Our Preschool Media Gallery
Over the years, parents and staff have captured several photos of the preschool in action.  We share these with you for two reasons, first to see the wonderful memories that are created, and second for you to see how our facility and grounds allow for an effective place to nurture and educate your child.
Sit back and watch our animated slideshow, or you can manually advance through them by clicking on the left or right side of the image to go forward or back.  Enjoy!
Little Cherubs Testimonials
Read what our parents have been saying about Little Cherubs Christian Preschool:
"Thank You so much for a great school year.  Henry had a great school experience this year!  We appreciate the hard work and dedication so much!  Henry is already looking forward to next year!  Have a relaxing summer!"

The Schepis Family
"Miss Joann, just wanted to let you know how much we appreciate your hard work, love and efforts for Liliana and Leandro. "Thank You" word isn't enough!  You were the best teacher they could possible have.  Thank you for everything!  We love you."

Liliana and Leandro
"Thank you so much for a great year! Matthew loves coming to school!  We appreciate all that you've all to make Little Cherubs a special place.  Looking forward to another great year.  Enjoy your Summer!"

The Vanasse Family
"I can't thank you all enough for all that you have done for Charlotte.  She adores school.  Thank you for the kindness, love and guidance this past year."

The Strother's
"Thank you for taking such good care of Nora and loving her as much as we do. The kindness, patience and love do not go unnoticed!"

The Zimmerman's
"Thank you for everything! We love Little Cherubs so much!  I feel like it's an extension of our home."

MaryJane, Brenna and Chris Steczowski
"Thank you for taking such good care of me!"

Ryan Lahey
"Thank you for an amazing school year! One of our best decisions of our lives was sending MaryJane to Little Cherubs. We feel so blessed.  She has grown so much.  Looking forward to next year.  Thank you!"

Brenna, Chris and MaryJane
"Thank you so much for giving Claire such an amazing first year at preschool. You have instilled such a love of learning and we are so grateful.  Thank you for loving her so well.  Can't wait for next year!"

Mike and Sabrina Lachowicz
"Thank you so much for all that you've taught me over the past 2 years. You've been so important in my growth as a person.  I really appreciate all of your love and patience when teaching me.  I hope to come back to visit.  Thank you for all that you do!  Have a great Summer."

Logan
"Thank you for loving and teaching Henry over these last two years.  We are so very appreciative of your dedication and hard work.  We prayed Henry's preschool experience would give him a love of learning and excitement about school.  You and your team made that prayer a reality and we are so grateful!  He is ready and excited for Kindergarten!  Thank You, Thank You!  Enjoy your summer!  You deserve it!"

Henry and the Schepis Family
"Thank you so much for all you ladies have done these past 2 years. I couldn't have asked for a better experience for Dylan.  She will thrive in Kindergarten thanks to the tools you've given her.  It's been such a pleasure.  I hope you have a wonderful Summer and we will be sure to pop in next year!"

The Rock Family
"Thank you for helping me grow and learn! Have a wonderful Summer!"

Juliana
"You're amazing and you mean so much to us! Thank you for loving our children so well.  Thank You for helping us build a strong foundation in their faith and academics.  These past two years have been wonderful and we're so thankful we have two more."

Rachel and Jason
"Little Cherubs Christian Preschool is both a nurturing and stimulating preschool.  Our daughter is learning social skills like sharing, taking turns and following directions all through play.  The classroom has a variety of play areas that appeal to all kids.  The 3 year olds class has an appropriate amount of structure that allows the kids to learn how to transition between activities and focus on a lesson.  Daily activities may include painting, baking, show-and-tell and going for a nature walk outside on the church grounds.  We especially like that our daughter is learning bible stories and learning about God.  The teachers really enjoy working with the children.  They get to know the families, not just the students.  The teacher provides a daily feedback sheet which lists the activities that occurred, what was served for snack and specific notes on my daughter.  Little Cherubs is a great place for a child to begin their school years."

Laura Kelly – Cheshire, CT
"The Little Cherubs Christian Preschool in Cheshire is the best.  Highly recommended.  The teachers truly care about the children.  Teachers are certified.  The curriculum prepares them for Kindergarten within a Christian setting.  Student to teacher ratio is great.  A small class is bright and spacious with many stations."

Rachel Johnson – Cheshire, CT
"My daughter was a student in the Little Cherubs Christian Preschool in 2012-2014.  She liked this place and the teachers taught the children in a very caring way.  Joanne Holstein gave me a personal report on what my daughter was doing for every class, which is awesome.  My daughter learned in cooking "lab", she enjoyed the cookies/ food they baked together, and introduced the food to our family.  When she graduated, she knew how to spell her full name, memorize her address and phone number (which is important) and sang a song from "Frozen" movie.  She enjoyed learning bible lessons and sang songs along with the pastor of the church.  The facility itself is spacious and bright. On warmer days, the children can go out to play in the yard behind the building (which is very big and nice) and explore the nature."

Lina Junaedi – Cheshire, CT