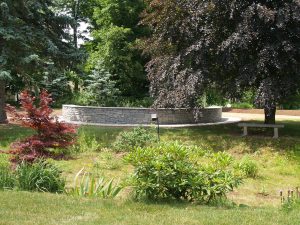 Located on the picturesque grounds of Cheshire Lutheran Church, our Memorial Garden and Columbarium is a place to remember our congregants and honor those not only inurned, but those memorialized with plaques.
It is a place for reflection and prayer.
Dedicated on July 24, 2016, it is an alternative to the traditional cemetery and a place for inurnment of ashes. Many have found comfort in knowing eternal rest is close to their church home.
Learn more about our Memorial Garden and Columbarium below, for example who can be inurned, locations available, what the process is, who to contact, as well as access to our pamphlet and it's construction video.
---
---
Who can be inurned at the Memorial Garden and Columbarium?
The deceased or person to be memorialized shall be a Christian, The Pastoral Staff shall determine eligibility for inurnment in accordance with the following::
A member or former member of Cheshire Lutheran Church
An ordained minister who has served as a pastor of Cheshire Lutheran Church, or
An employee or former employee of Cheshire Lutheran Church, or
A spouse and natural, adopted, or foster or step parent, child, or grandchild of anyone eligible for inurnment
A rostered clergyperson or commissioned church worker of the Lutheran Church Missouri Synod, or
An individual recommended for inurnment by Pastoral Staff and approved by the chair of the Columbarium Committee
---
How are Columbarium Sites selected?
Selection of a memorial plaque or inurnment site is made by the subscriber depending on availability. A record of all payments, sites and documents is maintained in the church office.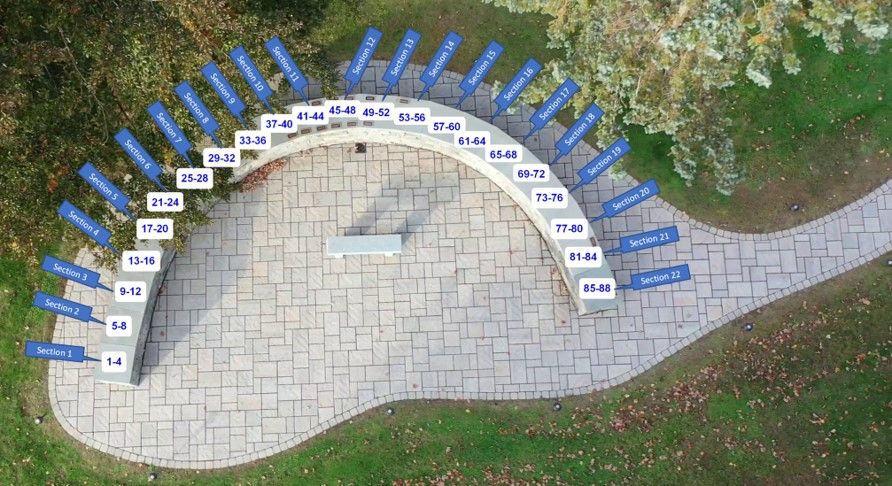 ---
What is the current cost of inurnment and/or a Memorial Plaque?
Contact our church office or any one of our committee members to learn more about the costs.
---
How is a Memorial Plaque or Inurnment Niche acquired?
Confirm eligibility to purchase a Subscription for Inurnment or a Memorial Plaque by downloading and reviewing the Bylaws Concerning the Columbarium. Access the Bylaws via link below
Schedule a meeting with Pastor to discuss your desire to purchase an Inurnment Subscription or Memorial Plaque to be placed on our Columbarium wall
Inurnment Subscription & Memorial Plaque documents are available at the church and can be downloaded below. You should complete the appropriate forms & discuss any questions you may have and reserve your desired location on the wall with any Columbarium Committee Member
Submit completed forms and payments to any Columbarium Committee Member
Pastor and the Columbarium Committee will determine if the requestor is eligible for Inurnment or Memorial Plaque in accordance with the Bylaws of the Church pertaining to the Columbarium and Memorial Garden (the "Columbarium Bylaws")
---
Committee Members
Barbara Carson
Vicki DePaolo
Pat DiDomizio
Jim Mertz
Margie Mertz
Randy Raddatz
Ed Schweizer
Beth Soulier
Bill Soulier
Tim Weiland
Contact our church office for more information and/or arrange to be contacted by one of our committee members.
---
For More Information download the PDF documents below
General Information:
Inurnment Subscription Forms:
Memorial Plaque Application Forms:
---
Columbarium Construction Video