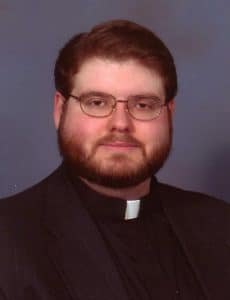 Cheshire Lutheran Church has been without a minister since the retirement of the Reverend Charles Gustafson in May of 2017. Since then, our congregation has been served by visiting pastors of the New England District of the Lutheran Church. On Sunday afternoon, February 25, at 3:00 p.m., our congregation will welcome and install our new pastor, the Reverend Dr. David Rowold.
Rev. Rowold was born in Brooklyn, NY and later moved to Connecticut where his father served as pastor of Good Shepherd Lutheran Church in Hamden. He graduated from Hamden High School and received a Bachelor of Arts in Religious Studies from Concordia College in Bronxville, New York. Rev. Rowold then attended Concordia Seminary in Saint Louis, Missouri where he received a Master of Divinity degree.
Following his ordination as a Lutheran minister in 2003, Rev. Rowold was called to Saint John's Lutheran Church in Bloomfield, New Jersey where he served as pastor for fourteen years. While in New Jersey, Rev. Rowold continued his education at Drew University in Madison, New Jersey earning a Doctor of Philosophy in Liturgical Studies.
Read more details here, complements to The Cheshire Herald.
Our Cheshire Lutheran Church congregation is eager to welcome Pastor Rowold, his wife Tricia, and their daughter, Sarah to Cheshire. The public is cordially invited to the Installation Service at 3:00 p.m. on February 25, 2018. A reception will follow in the parish hall.
Contact us with any questions.